45th Takasaki Festival & Fireworks
Weekend of 3rd & 4th August 2019, Central Takasaki
Major Attractions: Wadaiko drum performances, Awa-odori dancing through the streets, float parade, carrying of portable shrines and fireworks display.
Fireworks Display: 7:30pm-8:20pm on Saturday 3rd August 2019. Free vantage points include Takasaki Park, the sports parks on the far side of Wada-bashi Bridge, green areas along the river and the parking lot behind Takasaki Hospital. Get a space from 8am on the morning of the display.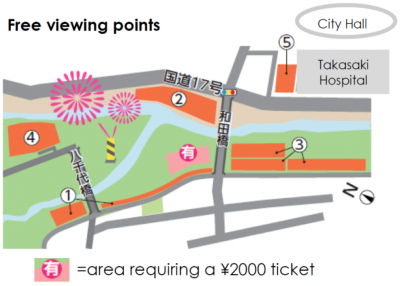 Notsuke & Yachiyo Sports Parks
Riverside grassy area (max. 5,000 people)
Wada-bashi Sports Park
Former golf course (now a park)
Parking lot of Soka Gakkai building
Tickets: Rakuten Tickets online, JTB Takasaki (Ara-machi), Family Mart and Lawson (until sold out).