Cool Takasaki Events Coming Up!
About Cool Takasaki:
Cool Takasaki is the name given to special classes that aim to bring authentic cultural experiences to the city. Participants use Facebook and other social media to record their experience, and promote the rich selection of Japanese and international cultures in Takasaki. 
Shinmachi Doll Festival & Decorative Sushi Roll Making Class
Exclusively for non-Japanese residents
Hina Matsuri is celebrated on the 3rd March each year, and is often referred to as the Doll Festival because of the tiered displays of ornamental dolls that are put on show in private homes and businesses. Every year the Shinmachi area of Takasaki puts on a huge event celebrating the festival, and stores and houses in the area display their dolls for the public to admire. There are also flea markets, outdoor food and drink stalls and live entertainment in the nearby park.
Class Details: Learn to prepare sushi in the shape of prince and princess Hina dolls made by rolling different colored sushi rice decorated with sesame, seaweed, egg, cucumber, etc. (see picture). Enjoy eating what you've prepared accompanied by green tea. Take a short tour of the beautiful doll displays near the community center.
Date & Time: Saturday 3rd March, 11am-2pm
Place: Shinmachi Community Center (Shinmachi  2271-1), a 5 minute walk from JR Shinmachi Station.
Cost: 1000 yen
About the Teacher: Licensed decorative sushi instructor, Ms. Fumiko Takahashi
Sign Up: Call, email, or contact us by Facebook now. Contact details at bottom (first 16 people)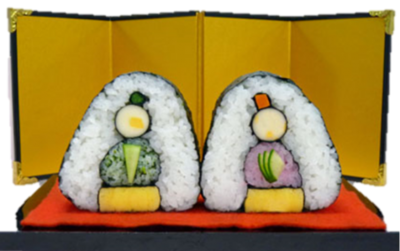 European Sweets Baking Class
Class Details: Learn to bake Galettes Bretonnes (buttery French cookies), enjoy accompanied by European black tea and then chat with the other participants and the class teacher who is a lovely lady from Mongolia.
Date & Time: Friday 16th March, 1pm-3pm
Place: Socius (Ashikado-machi 1669-2)
Cost: 1000 yen (includes cookies to take home)
About the Teacher: Ms. Tsolomontes Mashimo is a foreign resident of Takasaki who bakes homemade sweets that she sells at a local café.
Sign Up: Call the office from 10am on Tuesday 27th February (first 10 people)